Saturday 25th November
Come and join us in style to celebrate Blessed Herman's Feast Day (if a tad late – he was busy with assignments) through Championships, Competitions, and a Casual lunch feast.
This includes the College of Blessed Herman's annual:
Fencing Championship
Armoured Combat Championship
Hnefatafl Championship
An Arts and Sciences Competition (with the theme heraldic – make anything under that theme to enter)
Screaming Goat Bardic Competition (perform a story, poem or song on the day to enter)
Reliquary Challenge where you bring or find an item and make up a story about why it's a relic of Blessed Herman – with the best story winning
For bookings, please fill in the form here
This is a garbed event and feasting gear will also be required if you are booking a catered ticket. If you do not have garb and/or feasting gear, please indicate that in the booking form and the Hospitallier will be in touch.
We look forward to seeing you there!
Schedule:
9am set up
10am event start
5pm site close
Competition Info: Everyone is welcome to enter into the competitions and tournaments, If you don't want to go for the championship/title you're still welcome to enter to provide a worthy challenge to test the mettle of our prospective champions (in the case of armoured combat, fencing and hnefatafl) or share bardic inspiration for the Screaming Goat or Reliquary.
If however you wish to contest for the title of champion, you need to be willing to represent Blessed Herman as its champion, look after the regalia (and even maybe humbly wear it) and run the championship next year – if you're not sure how to run one, don't worry you'll get help :).
Feasting Gear: A reminder to bring it – at the very least you'll need a plate, cutlery and cup for water/cordial. We will also have zooper doopers and cordial available for all who attend.
Location: Rumors Cafe, level 6 of the Union building at the University of Adelaide North Terrace campus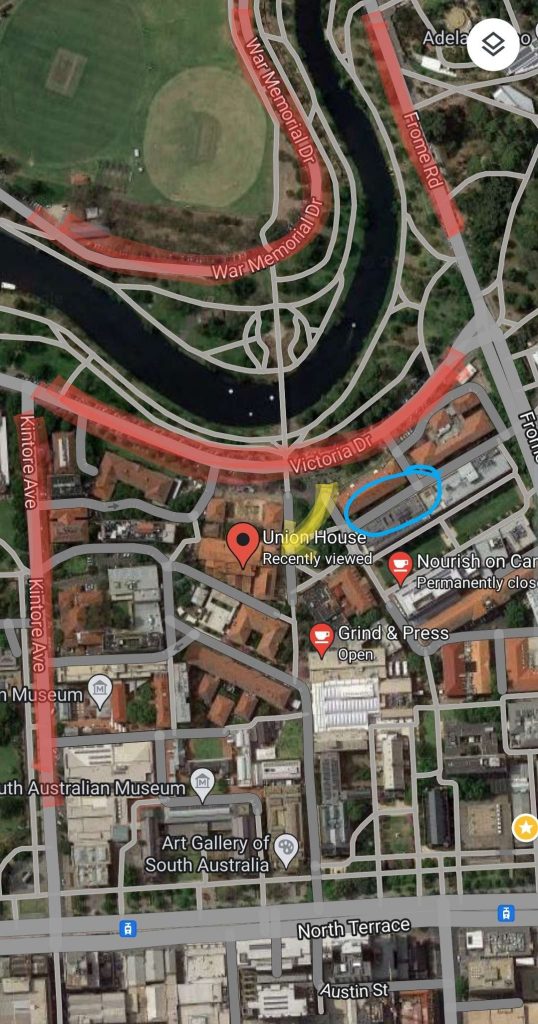 To find the Rumors Cafe (I've put an arrow in yellow pointing at it on the map), you'll need to go to the East side of the Union house where in the undercroft area there will be an elevator that you will need to take to level 6. Once you get there and exit the elevator, you'll need to turn right and you'll spot the entrance pretty easily! – we'll have a constable volunteer on the day standing in the undercroft area to help people find their way in
There is reasonably priced parking nearby available on Victoria Drive, War Memorial Drive, Frome Road and Kintore Avenue highlighted in red in the image below. – However Clipsal 500 is on, so parking/getting into the city may or may not be horrendous – please plan accordingly.
I've also circled the main loading bay area we will be using in blue – if you're helping with event set up, please meet up here to help unload.
Cost: Catered – $15, Uncatered – $2
Event Stewards: Zofia Varsoviensis and Mathias Feuerbach
Feast Steward: Ari Egilsdottir