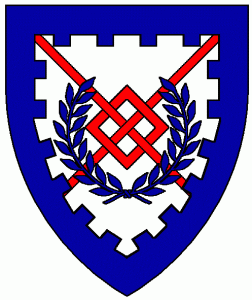 The following are the collected awards & registered arms of our populace and those who have received awards from our Baronage. If you see an error or something missing please contact the Webminister.
Do you have an award recommendation? Email the Baroness & Baron with your thoughts.
The list of Innilgard citizens who have received Kingdom awards are listed on Lochac Canon Lore.
Name
Award
Received
Arms
Adele Amery (Adeline Amery)
Order of the Gobbled Frette
19 Mar 1998
Order of the Knotted Noose (Blue)
14 Apr 1997
Order of the Gobbled Frette
1 Aug 1996
Adelin Siwella
Order of the Golden Owl
22 Sep 2001
Aderyn de Reynard-Daumeray
Order of the Fretted Goblet
29 Jan 1989
Aeschine of Arran
Primus Agmen
25 Oct 2020
Order of the Gobbled Frette
21 May 2017
Baronial Cypher 5 Aylwin & Ingerith
5 Apr 2014
Order of the Gobbled Frette
20 Oct 2013
Order of the Golden Owl
27 Jan 2013
Order of the Fretted Goblet
21 May 2011
Order of the Knotted Noose (Red)
1 Oct 2007
Order of the Knotted Noose (Blue)
23 Sep 2006
Aiofe ni Medb
Baronial Cypher 2 Osgot & Esla
13 Oct 2001
Order of the Golden Owl
5 Oct 1997
Aislinn de Valence
Baronial Cypher 2 Osgot & Esla
13 Oct 2001
Order of the Golden Owl
5 Oct 1996
Order of the Fretted Goblet
22 Jun 1991
Order of the Gobbled Frette
12 Oct 1987
Alarice of Inverness
Order of the Knotted Noose (Blue)
19 Apr 1997
Aldwin Seguin
Order of the Silver Frette
16 Mar 2014
Order of the Courtiers
9 Apr 2005
Order of the Fretted Goblet
31 Jan 2004
Order of the Golden Owl
28 Sep 2002
Order of the Knotted Noose (Blue)
28 Sep 2002
Alessandra de Luna
Order of the Knotted Noose (Red)
13 Aug 2016
Alfar of Attica (not Innilgard)
Baronial Cypher 3 Dai & Alycie
21 May 2005
Alev Hubesep (Jan Seppe)
Order of the Golden Owl
5 Apr 2014
Order of the Fretted Fiddle
5 Apr 2014
Aliena de Savigny
Order of the Golden Owl
1 Sep 2007
Alisaundre de Kilmaron
Order of the Fretted Fiddle
5 Apr 2014
Order of the Knotted Noose (Blue)
27 Jan 1990
Alycia of Blessed Herman
Order of the Knotted Noose (Blue)
1 Jan 1987
Alycie of Stirling
Baronial Cypher 2 Osgot & Esla
13 Oct 2001
Primus Agmen
Order of the Knotted Noose (Blue)
17 Oct 1999
Order of the Fretted Goblet
17 Oct 1999
Amos Ironbeard (Jarnskeggi the Mad)
Baronial Cypher 7: Cullan
29 Jun 2019
Baronial Cypher 7: Aeschine
29 Jun 2019
Primus Agmen
26 May 2019
Order of the Gobbled Frette
30 Oct 2016
Order of the Fretted Goblet
27 Aug 2016
Baronial Cypher 6 (Yevan)
18 Jun 2016
Order of the Knotted Noose (Red)
2 Aug 2015
Order of the Knotted Noose (Blue)
2 Aug 2015
Order of the Gobbled Frette
15 Mar 2015
Angarhad Gam (Angharad O'Haul)
Order of the Golden Owl
12 Sep 1998
Order of the Knotted Noose (Blue)
6 Dec 1996
Anna de Wilde
Baronial Cypher 7: Cullan
29 Jun 2019
Baronial Cypher 7: Aeschine
29 Jun 2019
Order of the Knotted Noose (Blue)
5 Nov 2017
Order of the Fretted Goblet
21 Feb 2020
Anna von Freiberg (Anne of Lincoln)
Baronial Cypher 4 Drake & Blodeuwedd
26 Apr 2008
Order of the Fretted Goblet
3 Nov 2007
Annys Blodwell (Blodeuwedd y Gath o Nedd)
Order of the Fretted Goblet
5 Nov 2017
Order of the Knotted Noose (Blue)
5 Oct 1996
Ariel an Darrach
Order of the Knotted Noose (Blue)
21 Mar 1992
Armand de Rochefort
Baronial Cypher 2 Osgot & Esla
13 Oct 2001
Order of the Fretted Goblet
25 Jan 1997
Baronial Cypher 1 Toyve & Aislinn
5 Oct 1996
Athala Mercedes de Lioncourt (Delgardo)
Baronial Cypher 3 Dai & Alycie
21 May 2005
Baronial Cypher 2 Osgot & Esla
13 Oct 2001
Order of the Golden Owl
13 Apr 1998
Order of the Knotted Noose (Blue)
26 Oct 1996
Averil Silverthorn
Order of the Knotted Noose (Blue)
27 Jun 1992
Aylwin Greymane
Baronial Cypher 7: Aeschine
29 Jun 2019
Baronial Cypher 6 (Yevan)
18 Jun 2016
Baronial Cypher 6 (Eva)
18 Jun 2016
Order of the Embattled Ivy
18 Jun 2016
Order of the Fretted Fiddle
5 Apr 2014
Baronial Cypher 3 Dai & Alycie
21 May 2005
Order of the Courtiers
20 Feb 2005
7 Sep 1994
Order of the Fretted Goblet
27 Jun 1992
Order of the Knotted Noose (Red)
10 Nov 1990
Order of the Knotted Noose (Blue)
10 Nov 1990
Order of the Silver Frette
Bardolph Dragontower
Order of the Fretted Goblet
21 Jun 1986
Bartolomeo Giancristoforo Agazzari
Baronial Cypher 2 Osgot & Esla
13 Oct 2001
Order of the Golden Owl
17 Oct 1999
Order of the Knotted Noose (Blue)
16 Jan 1999
Beatrice of Hamtunscir (Beatrice the Arcane)
Order of the Knotted Noose (Blue)
Beatrijs van Doorn
Order of the Knotted Noose (Blue)
20 Feb 2021
Beatris la Serena
Baronial Cypher 3 Dai & Alycie
21 May 2005
Order of the Knotted Noose (Blue)
Bella Lucia da Verona
Baronial Cypher 3 Dai & Alycie
21 May 2005
Order of the Golden Owl
4 May 2002
Benedict of York (Gillette of York)
Baronial Cypher 3 Dai & Alycie
21 May 2005
20 Nov 2005
Bohdan Nepran
Baronial Cypher 2 Osgot & Esla
13 Oct 2001
Order of the Fretted Goblet
23 Jul 1988
Order of the Knotted Noose (Blue)
11 Oct 1986
Brand Oakwood
Order of the Knotted Noose (Blue)
22 Oct 2017
Order of the Fretted Goblet
19 Jun 2016
Brand Regenald
Order of the Huscarles
15 Dec 1996
Order of the Knotted Noose (Blue)
28 Sep 1996
Bruinneach nic Thighearnain (Breannach ferch Rhiannon)
Baronial Cypher 1 Toyve & Aislinn
5 Oct 1996
Order of the Knotted Noose (Blue)
11 Mar 1995
Brykcy Karol Gdanski (Kyle of Hellmore loch)
Baronial Cypher 7: Cullan
29 Jun 2019
Order of the Huscarles
28 Apr 2013
Primus Agmen
7 Jul 2012
Bryony Beehyrd (Bryony of the Bees)
Order of the Embattled Ivy
18 Jun 2016
Baronial Cypher 3 Dai & Alycie
21 May 2005
Baronial Cypher 2 Osgot & Esla
13 Oct 2001
Baronial Cypher 1 Toyve & Aislinn
5 Oct 1996
Order of the Golden Owl
23 Jan 1988
Order of the Fretted Goblet
21 Jun 1986
Cainnear na Ruad
Baronial Cypher 3 Dai & Alycie
21 May 2005
Order of the Fretted Goblet
4 May 2002
Baronial Cypher 2 Osgot & Esla
13 Oct 2001
Order of the Golden Owl
13 Oct 2001
Primus Agmen
Order of the Knotted Noose (Blue)
Carl the Hopeful
Baronial Cypher 1 Toyve & Aislinn
5 Oct 1996
Order of the Knotted Noose (Blue)
22 Jun 1991
Ciaran Bran
Order of the Knotted Noose (Blue)
25 Jan 1997
Collette de Harecourt
Baronial Cypher 7: Aeschine
29 Jun 2019
Baronial Cypher 5 Aylwin & Ingerith
5 Apr 2014
Order of the Fretted Goblet
21 May 2011
Order of the Fretted Goblet
25 Mar 2006
Baronial Cypher 3 Dai & Alycie
21 May 2005
Order of the Golden Owl
22 Sep 2001
Cullan of Innilgard (The Dragon of Innilgard)
Order of the Courtiers
21 Mar 2021
Primus Agmen
20 Oct 2019
Baronial Cypher 6 (Yevan)
18 Jun 2016
Baronial Cypher 6 (Eva)
18 Jun 2016
Order of the Silver Frette
20 Oct 2016
Order of the Knotted Noose (Blue)
19 Oct 2014
Order of the Huscarles
5 Apr 2014
Curie Estelle
Order of the Knotted Noose (Blue)
20 Feb 2021
Dafydd Lliantrisant
Baronial Cypher 3 Dai & Alycie
21 May 2005
Dafydd Wallraven
Order of the Silver Frette
16 Feb 2008
Order of the Knotted Noose (Blue)
12 Jun 1999
Dai Bach (Daffyd Llewellyn)
Baronial Cypher 2 Osgot & Esla
13 Oct 2001
Order of the Golden Owl
21 Jul 2001
Order of the Knotted Noose (Blue)
8 Jul 2001
Order of the Huscarles
Order of the Fretted Goblet
17 Oct 1999
Primus Agmen
18 Apr 1998
Dalamar of Innilgard
Baronial Cypher 3 Dai & Alycie
21 May 2005
Dana of the Green (Lyradana of Alexandria)
Baronial Cypher 1 Toyve & Aislinn
5 Oct 1996
Order of the Fretted Goblet
26 Jan 1991
Order of the Knotted Noose (Blue)
2 May 1987
Dhugal of Landiwednak (Dhugal an Soth)
Baronial Cypher 3 Dai & Alycie
21 May 2005
Baronial Cypher 2 Osgot & Esla
13 Oct 2001
Baronial Cypher 1 Toyve & Aislinn
5 Oct 1996
Order of the Fretted Goblet
5 Oct 1996
7 Aug 1994
Order of the Knotted Noose (Blue)
27 Jun 1992
Order of the Golden Owl
Diego Alvarez (Cameris Dagashi)
Baronial Cypher 6 (Eva)
18 Jun 2016
Order of the Silver Frette
16 Jan 1999
Order of the Knotted Noose (Blue)
14 Feb 1998
Order of the Huscarles
Domenico de Pontferrada
Order of the Knotted Noose (Blue)
17 Sep 2016
Douglas Hathaway
Primus Agmen
18 Apr 1998
Order of the Huscarles
Dragon Demonskyi
Order of the Knotted Noose (Blue)
24 Nov 2007
Baronial Cypher 3 Dai & Alycie
21 May 2005
Drake Morgan
Baronial Cypher 7: Aeschine
29 Jun 2019
Dubhghlas Mac Ailean
Order of the Fretted Goblet
26 Jan 1991
Order of the Golden Owl
29 Jan 1989
Order of the Knotted Noose (Blue)
23 Jun 1988
Dytryk Lehrer
Order of the Gobbled Frette
7 Mar 2021
Order of the Knotted Noose (Red)
5 Dec 2020
Edine Godin
Baronial Cypher 5 Aylwin & Ingerith
5 Apr 2014
Order of the Golden Owl
30 Oct 2013
Order of the Fretted Goblet
29 Jun 2013
Order of the Gobbled Frette
28 Oct 2012
Order of the Knotted Noose (Red)
21 May 2011
Order of the Knotted Noose (Blue)
28 Mar 2009
Edmund the Lame (not Innilgard)
Order of the Fretted Goblet
13 Jun 1996
Edward the Unshaven
Order of the Knotted Noose (Blue)
14 Feb 1998
Eirik Axeblade
Order of the Knotted Noose (Red)
17 Sep 2016
Elasaid Mairie McGhilleshathenaic
Order of the Knotted Noose (Red)
17 Sep 2016
Eleanor Terrington
Order of the Fretted Goblet
11 Jul 2009
Order of the Golden Owl
7 Jan 1995
Order of the Knotted Noose (Blue)
27 Jun 1992
Elena le Breustere
Baronial Cypher 7: Aeschine
29 Jun 2019
Order of the Fretted Goblet
25 Feb 2018
Order of the Knotted Noose (Blue)
19 Oct 2014
Order of the Gobbled Frette
28 Oct 2012
Baronial Cypher 3 Dai & Alycie
21 May 2005
Order of the Golden Owl
4 May 2002
Elisabeth Courtenay
Order of the Fretted Goblet
3 Aug 1991
Order of the Knotted Noose (Blue)
22 Sep 1990
Elizabeth Piper of Oddington
Order of the Fretted Fiddle
5 Apr 2014
Elric Leifsson
Baronial Cypher 6 (Yevan)
18 Jun 2016
Elspeth Turbeville (Gudrun Bodvarsdottir)
Baronial Cypher 3 Dai & Alycie
21 May 2005
Order of the Knotted Noose (Blue)
27 Sep 1992
Emery de Llanruthin
Order of the Knotted Noose (Red)
17 Sep 2016
Emryn ap Llewellyn
Order of the Knotted Noose (Blue)
Eoin O'Halloran
Order of the Gobbled Frette
29 Jan 1989
Eric Alard
Baronial Cypher 4 Drake & Blodeuwedd
26 Apr 2008
Baronial Cypher 3 Dai & Alycie
21 May 2005
Baronial Cypher 2 Osgot & Esla
13 Oct 2001
Baronial Cypher 1 Toyve & Aislinn
5 Oct 1996
Order of the Knotted Noose (Blue)
11 Mar 1995
Order of the Golden Owl
22 Jul 1995
7 Sep 1994
Order of the Fretted Goblet
13 Mar 1993
Erinn Ailinna Inion Llewellyn O'Meath
Order of the Knotted Noose (Blue)
20 Apr 1991
Esla of Ifeld
Baronial Cypher 3 Dai & Alycie
21 May 2005
Order of the Fretted Goblet
13 Oct 2001
Baronial Cypher 1 Toyve & Aislinn
5 Oct 1996
Order of the Knotted Noose (Blue)
5 Oct 1996
Order of the Silver Frette
13 Jul 1996
Order of the Gobbled Frette
17 Sep 1988
Order of the Golden Owl
23 Jan 1988
Ethan Drake
Primus Agmen
25 Oct 2020
Order of the Knotted Noose (Blue)
28 Jul 2019
Order of the Fretted Goblet
24 Jun 2017
Baronial Cypher 6 (Yevan)
18 Jun 2016
Eurgain of Whitby
Baronial Cypher 2 Osgot & Esla
13 Oct 2001
Order of the Silver Frette
13 Oct 2001
Eva von Danzig
Baronial Cypher 5 Aylwin & Ingerith
5 Apr 2014
Order of the Fretted Goblet
4 Mar 2012
29 Mar 2009
Order of the Knotted Noose (Blue)
24 Nov 2007
Order of the Silver Frette
3 Nov 2007
Order of the Golden Owl
Everard Sefar
Baronial Cypher 5 Aylwin & Ingerith
5 Apr 2014
Faelan mac Flainn
Primus Agmen
25 Oct 2020
Baronial Cypher 7: Aeschine
29 Jun 2019
Order of the Courtiers
14 Feb 2016
Order of the Fretted Goblet
26 Apr 2015
Order of the Knotted Noose (Blue)
26 Jul 2014
Baronial Cypher 5 Aylwin & Ingerith
5 Apr 2014
Order of the Golden Owl
20 Oct 2013
Fagan of Innilgard
Baronial Cypher 7: Cullan
29 Jun 2019
Baronial Cypher 7: Aeschine
29 Jun 2019
Primus Agmen
26 May 2019
Order of the Golden Owl
14 Jan 2017
Baronial Cypher 6 (Yevan)
18 Jun 2016
Baronial Cypher 5 Aylwin & Ingerith
5 Apr 2014
Order of the Fretted Goblet
28 Apr 2013
Order of the Golden Owl
27 Jan 2013
Order of the Huscarles
19 Jun 2011
Order of the Knotted Noose (Blue)
5 Jun 2011
Falki hinn Beinlausi
Order of the Knotted Noose (Blue)
20 Mar 2021
Order of the Gobbled Frette
21 May 2017
Felix Arnett von Danzig (Rhodri ap Owen)
Baronial Cypher 7: Cullan
29 Jun 2019
Baronial Cypher 6 (Eva)
18 Jun 2016
Baronial Cypher 5 Aylwin & Ingerith
5 Apr 2014
Order of the Fretted Goblet
4 Mar 2012
29 Mar 2009
Order of the Golden Owl
1 Nov 2006
Baronial Cypher 3 Dai & Alycie
21 May 2005
Order of the Silver Frette
21 May 2005
Finnbjorn Skeggason
Order of the Knotted Noose (Blue)
22 May 2021
Order of the Huscarles
19 Aug 2018
Baronial Cypher 6 (Yevan)
18 Jun 2016
Fionghuine MacConneach
Baronial Cypher 4 Drake & Blodeuwedd
26 Apr 2008
Order of the Fretted Goblet
1 Nov 2006
Baronial Cypher 3 Dai & Alycie
21 May 2005
Order of the Knotted Noose (Blue)
Fionnabhair inghean ui Mheadhra (Fionn O'Mara)
Baronial Cypher 7: Cullan
29 Jun 2019
Order of the Gobbled Frette
1 May 2019
Order of the Knotted Noose (Red)
10 Mar 2019
Baronial Cypher 6 (Eva)
18 Jun 2016
Order of the Gobbled Frette
16 Jan 2016
Baronial Cypher 5 Aylwin & Ingerith
5 Apr 2014
Order of the Fretted Goblet
7 Jul 2012
Baronial Cypher 4 Drake & Blodeuwedd
26 Apr 2008
Baronial Cypher 3 Dai & Alycie
21 May 2005
Order of the Knotted Noose (Blue)
Order of the Silver Frette
Order of the Golden Owl
Francesca Lucia Sammicheli
Baronial Cypher 2 Osgot & Esla
13 Oct 2001
Order of the Fretted Goblet
23 Apr 2000
Order of the Knotted Noose (Blue)
4 Jan 1997
Gabriel Ziegler
Order of the Courtiers
21 Mar 2021
Baronial Cypher 5 Aylwin & Ingerith
5 Apr 2014
Order of the Fretted Goblet
20 Oct 2013
Order of the Silver Frette
Geoffrey Jeffries
Baronial Cypher 3 Dai & Alycie
21 May 2005
Order of the Silver Frette
4 May 2002
Order of the Knotted Noose (Blue)
15 May 1998
Order of the Golden Owl
22 Jul 1995
Order of the Fretted Goblet
11 Mar 1989
Gerald Swinford
Order of the Knotted Noose (Blue)
3 Jun 1989
Order of the Golden Owl
29 Jan 1989
Gereint Scholar
Order of the Golden Owl
23 Jan 1988
Order of the Fretted Goblet
21 Jun 1986
Giovanna the Unsettled
Order of the Knotted Noose (Blue)
19 Dec 1986
Giovannino da Vidor
Baronial Cypher 3 Dai & Alycie
21 May 2005
Order of the Huscarles
18 Apr 2004
Baronial Cypher 2 Osgot & Esla
13 Oct 2001
Primus Agmen
18 Apr 1998
Order of the Knotted Noose (Blue)
14 Feb 1998
Order of the Fretted Goblet
29 Mar 1997
Grainne ni Concubhar
Order of the Golden Owl
12 Sep 1998
Grainne of Starmount
Order of the Golden Owl
Order of the Fretted Goblet
Order of the Knotted Noose (Blue)
24 May 1997
Order of the Silver Frette
13 Jul 1996
Gregory Tortouse de Sloleye
Baronial Cypher 6 (Yevan)
18 Jun 2016
Order of the Fretted Goblet
11 Jul 2009
Baronial Cypher 4 Drake & Blodeuwedd
26 Apr 2008
Baronial Cypher 3 Dai & Alycie
21 May 2005
Order of the Courtiers
20 Feb 2005
Order of the Knotted Noose (Blue)
3 Mar 2002
Order of the Silver Frette
Gruffydd ap Cynan
Baronial Cypher 2 Osgot & Esla
13 Oct 2001
Order of the Golden Owl
22 Sep 2001
Order of the Knotted Noose (Blue)
16 Jan 1999
Guillaume de Colmar
Order of the Knotted Noose (Blue)
13 Aug 2016
Guimora Peveral of Scopasheall
Order of the Knotted Noose (Blue)
22 Jun 1991
Gwenhwyvar of Abergavenny
Baronial Cypher 3 Dai & Alycie
21 May 2005
Baronial Cypher 2 Osgot & Esla
13 Oct 2001
Primus Agmen
13 Oct 2001
Order of the Fretted Goblet
13 Oct 2001
Haos Windchaser
Order of the Embattled Ivy
18 Jun 2016
Baronial Cypher 5 Aylwin & Ingerith
5 Apr 2014
Order of the Courtiers
20 Feb 2011
Baronial Cypher 2 Osgot & Esla
13 Oct 2001
Baronial Cypher 1 Toyve & Aislinn
5 Oct 1996
Order of the Silver Frette
13 Jun 1996
Order of the Fretted Goblet
21 Jun 1986
Hassan ibn Ysau
Baronial Cypher 1 Toyve & Aislinn
5 Oct 1996
Order of the Silver Frette
13 Jul 1996
Order of the Golden Owl
23 Jan 1988
Order of the Knotted Noose (Blue)
18 Jul 1987
Order of the Gobbled Frette
28 Feb 1987
Helga raudtik Leosdottir (not Innilgard)
Baronial Cypher 3 Dai & Alycie
21 May 2005
Hilary of Serendip (not Innilgard)
Baronial Cypher 1 Toyve & Aislinn
5 Oct 1996
Order of the Fretted Goblet
22 Jul 1995
Iain the Upstanding
Order of the Fretted Goblet
22 Jul 1995
Order of the Knotted Noose (Blue)
22 Sep 1990
Ingerith Ryzka (Ingerith Fra Rus)
Baronial Cypher 7: Cullan
29 Jun 2019
Baronial Cypher 7: Aeschine
29 Jun 2019
Order of the Silver Frette
24 Jun 2017
Baronial Cypher 6 (Eva)
18 Jun 2016
Baronial Cypher 6 (Yevan)
18 Jun 2016
Order of the Embattled Ivy
18 Jun 2016
Baronial Cypher 3 Dai & Alycie
21 May 2005
Order of the Gobbled Frette
18 Nov 2001
Order of the Golden Owl
Order of the Fretted Goblet
7 Jan 1995
Order of the Knotted Noose (Blue)
10 Nov 1990
James Ericsson
Order of the Fretted Goblet
13 Mar 1993
Order of the Gobbled Frette
28 Jan 1991
James MacIver (James of Blessed Herman)
Baronial Cypher 3 Dai & Alycie
21 May 2005
Order of the Knotted Noose (Blue)
18 Mar 2000
James of Eastwood (Iame de Estwode, Egg)
Order of the Golden Owl
1 Oct 2000
Order of the Knotted Noose (Blue)
30 Jun 1990
Jane Ascham (Arien ferch Eynion, Arianwen merch Einion, Cyneburgh)
Baronial Cypher 2 Osgot & Esla
13 Oct 2001
Order of the Golden Owl
12 Sep 1998
Order of the Knotted Noose (Red)
1 Oct 1986
Order of the Knotted Noose (Blue)
11 Oct 1986
Jarnulfr Thorolfsson
Order of the Golden Owl
1 Sep 2007
Jean le Montebank (Brother John)
Order of the Golden Owl
26 Jan 1991
Johann der Blau (not Innilgard)
Order of the Golden Owl
17 Nov 1991
Jorund aux Meduse
Order of the Knotted Noose (Blue)
19 Mar 1988
Kaczna of Bohemia
Order of the Knotted Noose (Blue)
11 Apr 2021
Katerina
Baronial Cypher 3 Dai & Alycie
21 May 2005
Katerina da Brescia
Baronial Cypher 3 Dai & Alycie
21 May 2005
Order of the Fretted Goblet
4 May 2002
Baronial Cypher 2 Osgot & Esla
13 Oct 2001
Order of the Golden Owl
12 Dec 1998
Baronial Cypher 1 Toyve & Aislinn
5 Oct 1996
Order of the Knotted Noose (Blue)
11 Feb 1996
Kateryn Lanark
Order of the Knotted Noose (Blue)
27 Nov 1999
Katherina Weyssin von Regenspurk (Katherine Parry, Katherine of Blessed Herman)
Order of the Gobbled Frette
7 Jun 2003
Baronial Cypher 2 Osgot & Esla
13 Oct 2001
Order of the Knotted Noose (Blue)
16 Jan 1999
Order of the Golden Owl
14 Mar 1998
Order of the Fretted Goblet
Kelly of Cornwall
Baronial Cypher 1 Toyve & Aislinn
5 Oct 1996
Kenelm de la Dale
Order of the Knotted Noose (Blue)
22 Sep 1990
Kit Hackforth
Order of the Courtiers
21 Mar 2021
Order of the Knotted Noose (Blue)
19 Oct 2014
Krystal Hart (Avelyn Rayne)
Baronial Cypher 3 Dai & Alycie
21 May 2005
Lachlan Braddoc McCarrum
Order of the Knotted Noose (Blue)
1 Aug 1987
Lachlan Tadhg
Baronial Cypher 2 Osgot & Esla
13 Oct 2001
Order of the Knotted Noose (Blue)
1 Jun 1987
Laufey rauthrefr
Baronial Cypher 3 Dai & Alycie
21 May 2005
Order of the Fretted Goblet
13 Mar 2004
Order of the Knotted Noose (Blue)
29 Mar 2003
Lavinia of the Tyrol
Order of the Fretted Goblet
26 Jan 1991
Order of the Knotted Noose (Blue)
29 Jan 1989
Leofwynn Wulfinga
Baronial Cypher 5 Aylwin & Ingerith
5 Apr 2014
Baronial Cypher 3 Dai & Alycie
21 May 2005
Baronial Cypher 2 Osgot & Esla
13 Oct 2001
Order of the Fretted Goblet
13 Oct 2001
Order of the Gobbled Frette
4 Mar 2000
Order of the Gobbled Frette
14 Aug 1997
Baronial Cypher 1 Toyve & Aislinn
5 Oct 1996
Order of the Knotted Noose (Blue)
27 Apr 1996
Order of the Golden Owl
24 Aug 1993
Leonhardt von Saxonberg
Baronial Cypher 2 Osgot & Esla
13 Oct 2001
Order of the Silver Frette
Order of the Fretted Goblet
6 Sep 1997
Order of the Huscarles
6 Oct 1997
Order of the Knotted Noose (Blue)
2 Aug 1996
Leonie de Grey
Baronial Cypher 1 Toyve & Aislinn
5 Oct 1996
Order of the Knotted Noose (Blue)
24 Apr 1993
Letitia de Harfleur
Baronial Cypher 4 Drake & Blodeuwedd
26 Apr 2008
Order of the Fretted Goblet
1 Nov 2006
Baronial Cypher 3 Dai & Alycie
21 May 2005
Order of the Golden Owl
15 May 2004
Lilian Guy of Swanton
Order of the Fretted Goblet
21 Jun 1986
Linet atte Falcons Nest
Baronial Cypher 6 (Eva)
18 Jun 2016
Baronial Cypher 6 (Yevan)
18 Jun 2016
Order of the Knotted Noose (Red)
19 Oct 2015
Baronial Cypher 5 Aylwin & Ingerith
5 Apr 2014
Baronial Cypher 4 Drake & Blodeuwedd
26 Apr 2008
Baronial Cypher 3 Dai & Alycie
21 May 2005
Order of the Silver Frette
21 May 2005
Order of the Fretted Goblet
21 May 2005
Order of the Gobbled Frette
2 Oct 2004
Lizelle of Wolfglen
Baronial Cypher 2 Osgot & Esla
13 Oct 2001
Order of the Knotted Noose (Blue)
1 Oct 2000
Lothario de Stein
Baronial Cypher 3 Dai & Alycie
21 May 2005
Order of the Golden Owl
Lucrezia Lorenz (Zaydah)
Baronial Cypher 3 Dai & Alycie
21 May 2005
Baronial Cypher 2 Osgot & Esla
13 Oct 2001
Baronial Cypher 1 Toyve & Aislinn
5 Oct 1996
Order of the Golden Owl
13 Jul 1996
Order of the Knotted Noose (Blue)
13 Jul 1996
Order of the Knotted Noose (Blue)
2 Apr 1994
Order of the Gobbled Frette
13 Feb 1993
Order of the Fretted Goblet
4 Jan 1987
Ludwig von Regensberg
Order of the Golden Owl
25 Sep 1999
Order of the Knotted Noose (Blue)
6 Sep 1997
Maeva Torfadottir
Order of the Knotted Noose (Blue)
19 Mar 1988
Magdalena di Colle Santa Lucia
Order of the Golden Owl
18 Jun 2016
Magnus the Falconer
Order of the Knotted Noose (Blue)
4 Nov 2012
Makuro Hana (Hana the Orphan)
Order of the Fretted Goblet
1 Nov 2006
Baronial Cypher 3 Dai & Alycie
21 May 2005
Order of the Knotted Noose (Blue)
3 May 2002
Order of the Golden Owl
4 May 2002
Marc de Montfault
Baronial Cypher 3 Dai & Alycie
21 May 2005
Order of the Silver Frette
21 May 2005
Margaret de Trobrigge
Order of the Knotted Noose (Blue)
6 Nov 1993
Order of the Knotted Noose (Blue)
23 Mar 1991
Order of the Golden Owl
27 Jan 1990
Margie of Glen More (not Innilgard)
Baronial Cypher 3 Dai & Alycie
21 May 2005
Marguaritte de Valenssa
Order of the Fretted Goblet
22 Oct 2017
Order of the Knotted Noose (Blue)
19 Oct 2015
Baronial Cypher 4 Drake & Blodeuwedd
26 Apr 2008
Baronial Cypher 3 Dai & Alycie
21 May 2005
Mari Alexander
Order of the Courtiers
21 Mar 2021
Primus Agmen
24 Nov 2019
Baronial Cypher 7: Cullan
29 Jun 2019
Marc de Arundel (not Innilgard)
Baronial Cypher 6 (Eva)
18 Jun 2016
Martin Chaucer
Order of the Knotted Noose (Red)
17 Sep 2016
Martin the Terrible (Llfdwych Myddchy)
Baronial Cypher 3 Dai & Alycie
21 May 2005
Baronial Cypher 2 Osgot & Esla
13 Oct 2001
Primus Agmen
22 Sep 2001
Order of the Silver Frette
25 Sep 1999
Order of the Fretted Goblet
29 Jan 1989
Massaria da Cortona (Arianna an Armagh)
Order of the Fretted Goblet
25 Jan 1997
Order of the Knotted Noose (Blue)
11 Mar 1995
Melodia de la Fountaine
Order of the Knotted Noose (Blue)
24 Mar 2018
Merewyn atte Becehurst
Order of the Golden Owl
Michael de Biggleswade
Baronial Cypher 2 Osgot & Esla
13 Oct 2001
Order of the Golden Owl
17 Oct 1999
Michiline de Lyons
Baronial Cypher 3 Dai & Alycie
21 May 2005
Primus Agmen
21 May 2005
Order of the Fretted Goblet
13 Oct 2001
Order of the Huscarles
25 Jul 1999
Order of the Knotted Noose (Blue)
21 Apr 1996
Miguel de Sable
Order of the Knotted Noose (Blue)
25 Sep 1999
Miguel del Rosario
Primus Agmen
Miguel of Innilgard
Primus Agmen
18 Apr 1998
Miriam Galbraith
Baronial Cypher 2 Osgot & Esla
13 Oct 2001
Order of the Knotted Noose (Blue)
22 Sep 1990
Order of the Golden Owl
23 Jan 1988
Morrigan Scathach (Medb ni Ellis, Aeron Muirgen o Dalriada)
Order of the Knotted Noose (Blue)
14 Mar 1998
Order of the Golden Owl
6 Sep 1997
Order of the Knotted Noose (Blue)
5 Oct 1996
Myfanwy ferch Dafydd
Baronial Cypher 3 Dai & Alycie
21 May 2005
Baronial Cypher 2 Osgot & Esla
13 Oct 2001
Baronial Cypher 1 Toyve & Aislinn
5 Oct 1996
Order of the Gobbled Frette
3 Aug 1991
Order of the Golden Owl
23 Jan 1988
Nicolette de Coulours
Order of the Fretted Goblet
20 Nov 2005
Baronial Cypher 3 Dai & Alycie
21 May 2005
Baronial Cypher 2 Osgot & Esla
13 Oct 2001
Order of the Gobbled Frette
12 Jun 1999
Nuala Ruadh
Order of the Knotted Noose (Red)
20 Mar 2021
Oddr Maddadason
Order of the Knotted Noose (Blue)
28 Sep 2002
Osanna Katsgraw von de Tann (not Innilgard)
Baronial Cypher 3 Dai & Alycie
21 May 2005
Osbert of Tewkesbury
Baronial Cypher 3 Dai & Alycie
21 May 2005
Baronial Cypher 2 Osgot & Esla
13 Oct 2001
Primus Agmen
Order of the Knotted Noose (Blue)
12 Jun 1999
Osgot of Corfe
Baronial Cypher 3 Dai & Alycie
21 May 2005
Baronial Cypher 1 Toyve & Aislinn
5 Oct 1996
Order of the Silver Frette
13 Jul 1996
Order of the Gobbled Frette
6 Feb 1988
Order of the Golden Owl
23 Jan 1988
Order of the Fretted Goblet
18 Jul 1987
Order of the Knotted Noose (Blue)
11 Oct 1986
Pedro Fernandez
Baronial Cypher 3 Dai & Alycie
21 May 2005
Order of the Huscarles
18 Apr 2004
Primus Agmen
28 Sep 2002
Pietro del Toro Rosso
Baronial Cypher 3 Dai & Alycie
21 May 2005
Order of the Huscarles
21 Apr 2002
Order of the Golden Owl
13 Oct 2001
Primus Agmen
4 Jul 1998
Baronial Cypher 1 Toyve & Aislinn
5 Oct 1996
Order of the Fretted Goblet
22 Jun 1991
Order of the Knotted Noose (Blue)
12 Jan 1989
Pol Potigier
Order of the Knotted Noose (Blue)
25 Sep 1993
Order of the Gobbled Frette
28 Aug 1993
Portia Vincenzo (not Innilgard)
Baronial Cypher 3 Dai & Alycie
21 May 2005
Rafaela Salazar de los Santos (Slaine the Silent)
Baronial Cypher 2 Osgot & Esla
13 Oct 2001
Order of the Fretted Goblet
Raichbhe Walkman
Order of the Knotted Noose (Blue)
22 Aug 1998
Rian Willith
Order of the Knotted Noose (Blue)
Rioghan of Saarlands (not Innilgard)
Baronial Cypher 3 Dai & Alycie
21 May 2005
Rioghnach inghean Aireachtaigh (Rioghnach ni Laisreain, Taliesin o'r Parc)
Order of the Knotted Noose (Blue)
11 Mar 1995
Rionach O'Melaghlin
Order of the Knotted Noose (Blue)
11 Mar 1989
Robert Furness of Southwood
Order of the Knotted Noose (Blue)
21 Jan 1990
Robert of Starmount
Baronial Cypher 2 Osgot & Esla
13 Oct 2001
Baronial Cypher 1 Toyve & Aislinn
5 Oct 1996
Robert of Strathconan
Baronial Cypher 4 Drake & Blodeuwedd
26 Apr 2008
Baronial Cypher 3 Dai & Alycie
21 May 2005
Order of the Knotted Noose (Blue)
21 May 2000
Primus Agmen
18 Apr 1998
Order of the Huscarles
Rorik Stag Borne (Rorik Greystag)
Order of the Knotted Noose (Blue)
18 Jul 1987
Roy Castell
Baronial Cypher 3 Dai & Alycie
21 May 2005
Ruth of Innilgard (Blessed Herman)
Order of the Knotted Noose (Blue)
Sanchia de la Tourre (Janette Muset)
7 Sep 1991
Sebastian Sarazin
Baronial Cypher 6 (Eva)
18 Jun 2016
Selfran the Singer (Silfren Ravenschild)
Order of the Golden Owl
23 Jan 1988
Silvie de Rohan (Mairi of Lindisfarne)
Baronial Cypher 3 Dai & Alycie
21 May 2005
Baronial Cypher 2 Osgot & Esla
13 Oct 2001
Order of the Fretted Goblet
22 Sep 2001
Order of the Golden Owl
17 Oct 1999
Order of the Knotted Noose (Blue)
25 Sep 1999
Baronial Cypher 1 Toyve & Aislinn
5 Oct 1996
Sorcha le Breton
Order of the Knotted Noose (Blue)
10 Sep 2017
Order of the Fretted Goblet
24 Jun 2017
Baronial Cypher 6 (Eva)
18 Jun 2016
Order of the Silver Frette
18 Jun 2016
Stephen McMire
Order of the Knotted Noose (Blue)
31 Jul 1993
Stephen of Irongate Stephen of Drynor)
Order of the Silver Frette
13 Jul 1996
Steven Rosenwolf
Baronial Cypher 2 Osgot & Esla
13 Oct 2001
Order of the Knotted Noose (Blue)
26 Oct 1996
Order of the Silver Frette
13 Jul 1996
Order of the Huscarles
18 Feb 1996
Sui Zo (not Innilgard)
Baronial Cypher 3 Dai & Alycie
21 May 2005
Sven Stormdriven
Baronial Cypher 1 Toyve & Aislinn
5 Oct 1996
Tancred the Unruly
Baronial Cypher 1 Toyve & Aislinn
5 Oct 1996
Order of the Huscarles
18 Feb 1996
Tanya of Shoreham
Baronial Cypher 2 Osgot & Esla
13 Oct 2001
Order of the Knotted Noose (Blue)
5 Oct 1996
Timothy of Newton
Order of the Silver Frette
30 May 2021
Primus Agmen
24 Nov 2019
Baronial Cypher 7: Cullan
29 Jun 2019
Baronial Cypher 6 (Eva)
18 Jun 2016
Order of the Huscarles
18 Jun 2016
Tobias Chester
Order of the Fretted Goblet
30 May 2021
Baronial Cypher 6 (Yevan)
18 Jun 2016
Toirdhealbhach O Corrain
Baronial Cypher 4 Drake & Blodeuwedd
26 Apr 2008
Baronial Cypher 3 Dai & Alycie
21 May 2005
Order of the Golden Owl
15 May 2004
Order of the Fretted Goblet
7 Jun 2003
Order of the Knotted Noose (Blue)
18 Jan 2003
Baronial Cypher 2 Osgot & Esla
13 Oct 2001
Primus Agmen
13 Oct 2001
Order of the Huscarles (Light)
Tomas del Valle de Bravo
Baronial Cypher 3 Dai & Alycie
21 May 2005
Order of the Knotted Noose (Blue)
4 May 2003
Order of the Huscarles
Tostig atte Scelga
Baronial Cypher 3 Dai & Alycie
21 May 2005
Order of the Huscarles
18 Apr 2004
Order of the Knotted Noose (Blue)
28 Sep 2002
Tovye Woolmongere
Baronial Cypher 2 Osgot & Esla
13 Oct 2001
Order of the Silver Frette
5 Oct 1996
Order of the Fretted Goblet
22 Jun 1991
Order of the Gobbled Frette
14 Jul 1990
Trica Ludwig
Order of the Golden Owl
17 Nov 2018
Tristan
Order of the Huscarles
19 Aug 2018
Primus Agmen
7 Jul 2012
Tybalt della Scala
Order of the Silver Frette
17 Nov 2018
Baronial Cypher 6 (Eva)
18 Jun 2016
Order of the Huscarles
15 May 2016
Uberto Renaldi (Rene du Bon Bois, Uberto di Firenze)
Baronial Cypher 3 Dai & Alycie
21 May 2005
Baronial Cypher 2 Osgot & Esla
13 Oct 2001
Order of the Golden Owl
1 Oct 2000
Order of the Fretted Goblet
22 Jun 1991
Order of the Knotted Noose (Blue)
29 Jul 1989
Ulrich of Innilgard
Order of the Courtiers
21 Mar 2021
Order of the Fretted Goblet
25 Oct 2020
Primus Agmen
20 Oct 2019
Baronial Cypher 7: Cullan
29 Jun 2019
Baronial Cypher 7: Aeschine
29 Jun 2019
Order of the Knotted Noose (Blue)
21 May 2017
Ulvar MacVanis (not Innilgard)
Baronial Cypher 3 Dai & Alycie
21 May 2005
Ursula Von Memmingen (Isobel de Couderc)
Baronial Cypher 6 (Eva)
18 Jun 2016
Order of the Golden Owl
1 Aug 2015
Order of the Silver Frette
25 Mar 2006
Baronial Cypher 3 Dai & Alycie
21 May 2005
Vandel Lynchea (not Innilgard)
Baronial Cypher 3 Dai & Alycie
21 May 2005
Order of the Fretted Goblet
21 May 2005
William Blackwood (William Forester de Blacwode)
Order of the Embattled Ivy
30 May 2021
Order of the Golden Owl
25 Oct 2020
Baronial Cypher 5 Aylwin & Ingerith
5 Apr 2014
Order of the Courtiers
1 Nov 2009
Baronial Cypher 3 Dai & Alycie
21 May 2005
Baronial Cypher 2 Osgot & Esla
13 Oct 2001
Order of the Knotted Noose (Blue)
11 Dec 1999
Order of the Huscarles (Light)
Order of the Fretted Goblet
Wulfric Halvedeivil (not Innilgard)
Baronial Cypher 3 Dai & Alycie
21 May 2005
Yasmine of Blessed Herman
Order of the Knotted Noose (Blue)
Yevan de Leeds
Order of the Courtiers
21 May 2021
Baronial Cypher 7: Cullan
29 Jun 2019
Primus Agmen
26 May 2019
Baronial Cypher 5 Aylwin & Ingerith
5 Apr 2014
Baronial Cypher 4 Drake & Blodeuwedd
26 Apr 2008
Baronial Cypher 3 Dai & Alycie
21 May 2005
Order of the Knotted Noose (Blue)
9 Feb 2002
Order of the Huscarles
18 Nov 2001
Order of the Fretted Goblet
Ysabeau of the Wylde Wood (not Innilgard)
Baronial Cypher 1 Toyve & Aislinn
5 Oct 1996
Ysabeau Sanguin (Ysabeau Senguin)
Order of the Knotted Noose (Blue)
Ysmay de la Mor
Baronial Cypher 3 Dai & Alycie
21 May 2005
Order of the Golden Owl
13 Oct 2001
Baronial Cypher 2 Osgot & Esla
13 Oct 2001
Baronial Cypher 1 Toyve & Aislinn
5 Oct 1996
Order of the Fretted Goblet
13 Jul 1996
Order of the Knotted Noose (Blue)
11 Mar 1995
Ziyadah ibnatu Zahara al-Jebel Subbihiya (Isobel, Shahreena)
Order of the Knotted Noose (Blue)
23 Mar 1991
Zofia Varsoviensis
Baronial Cypher 6 (Yevan)
18 Jun 2016