Innilgard Rapier Championship – 10 MAR 2019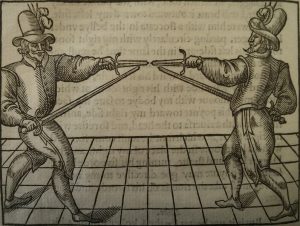 Site: Mellor Reserve
Brand St Beulah Park
Cost: $0 members
*Non-member charge $5
Time: Setup 10am
Tournament Start 12pm
Event Close 4pm
Steward: Kit Hackforth
Contact: Rapier@innilgard.lochac.sca.org
About:
The tourney will be a matched weapon round robin.
Fencers MUST have a banner representing them, and may not use the college or Baronial banners without prior permission of the Baronage or College Seneschal.
Bouts will be fought to a points system, each pass will be fought to a touch.
A touch to the arm or leg loses the fencer 1 point, a touch to any killing area loses the fencer 2 points. The bout is over when one of the fencers loses 3 or more points.
Hands will not be a valid target, to discourage hand sniping.
The 4 eligible fencers with the least loss of points go on to the finals.
Fencers will be awarded a bonus point for an over-mask hood.
Fencers will be awarded a bonus point for no visible mundanity (Zippers, modern shoes, etc.)
Fencers will be awarded a bonus point for a heraldic fighting display, being: fighting garb featuring prominently at least 2 of the main colours of your device, AND/OR prominently featuring a badge or device registered to you.