27 AUGUST – Eclipse Heraldic Tournament
Steward: Gabriel Ziegler & Annys Blodwell (anwyn@internode.on.net)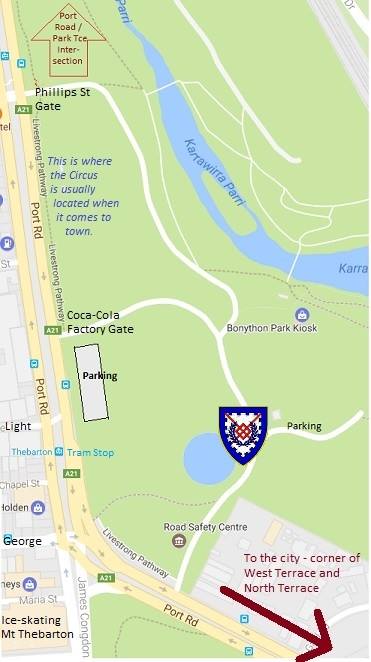 Location: Bonython Park, Thebarton S.A. (by the Boating Pond; enter from Port Rd at the Phillips Street entrance, opposite the Southwark Hotel and the Bonython tram stop; park at the southern end by the olive paddock.)
Pricing: $0 Members $5 Non-Member insurance fee
About:
Having had to cancel this event earlier this year, we are pleased to be able to run it now.
The Sun and the Moon are vying for supremacy, and what happens in the heavens is reflected here on earth. Join us with your heraldic splendour as Innilgard determines by combat, by art and by service, which shall be ascendant. Yet the Fates will also have their say, for each person, be they combatant or spectator, shall be assigned a side by lots, and thus the Fates may determine the victor.
Upon signing in, each person will draw a bead from a bag at random, either gold (the Sun) or silver (the Moon.) Depending on which they draw, they will be supporting the Sun or the Moon for the day, and any points they may achieve will be counted for that side in the final tally. Spectators are encouraged to cheer for combatants on their side.
The day features a Challenge Tourney using chivalric weapons, where each combatant is required to have a herald arrayed in the combatant's heraldry or colours, to declare their challenges for them. During breaks between the combat, there will be games, dancing, and three-legged race for the non-combatants to take part in (and those fighters who have the energy!). All are encouraged to show their heraldry in great display, and to bring a picnic lunch that may be shared, and supplemented by sizzling sausages.
In addition to the bead drawn to determine their side, each person will be given a bag with 10 "acclaim" beads in it. People are to give acclaim beads to other people, for any of the following reasons:
* Good heraldic display
* Has shown exemplary courtesy
* Has shown exemplary chivalry
* Has shown exemplary skill
* Has shown exemplary service
* To the heralds – for outstanding performance.
* To spectators – for good cheering and support for their side's combatants
* To combatants – for prowess shown on the field
Prizes will be given for the following:
* Most acclaimed herald (based on number of acclaim beads received by a herald)
* Most wins by a combatant
* Most rounds challenged by a combatant
* Individual who is given the most acclaim beads
* Best heraldic display – to be chosen by the Heralds collectively.
Set up begins at 10am. Marshal inspections begin at 10.30 and close at 10.50, with the first round of challenges made in opening court at 11am.