25 FEB – Baronial Rapier Championship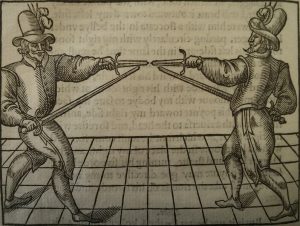 Where: Mellor Reserve, Brand St, Beulah Park
Time: 10am setup for an 11am start
Cost: $0 member, $5 non-member fee – bookings not required
Steward: Lord Faelan mac Flainn
Contact: erevedhel@hotmail.com
About:
To all those in the Barony of Innilgard that profess skill at arms, or who delight in witnessing the exercise thereof, I bid welcome.
Know ye that a Tournament shall be held on the 25th day of February, A.S. LII, at the Training Hall, to choose a new Champion in the Art of Rapier Combat for our fair Barony.
Firstly, the Courtiers of Innilgard shall challenge all comers.
Secondly, the Tournament proper, held to determine the new Champion. This shall be held as a round robin, with the fighters free to choose from the following weapons:
Single Rapier
Rapier and Dagger
Rapier and Buckler
All fighters shall require a Banner to enter.
The following Arts and Sciences competitions shall be run:
Best Heraldic Display (as judged by the populace)
Italian Adornment (any time period; could adorn a person, a garment, a sword, a manuscript… use your imagination)
New item for a Rapier fighter (made in the last 12 months)