18 AUG – A Feast of Indulgences (Lenten Feast)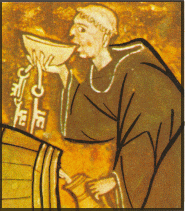 Where: Klemzig Community Hall, 242 North-East Rd, Klemzig, South Australia
Time: Hall opens 5pm, Feast start 6pm
Cost:
Adult Lenten price $30 | Adult Indulgence price $35
Newcomer (1st Feast) $25/$30
Child 5-16 $20/$25
U5 free
All non-SCA-members pay additional $5 insurance fee.
Bookings Close: TBA
Booking Contact: Mistress Elena le Breustere, innilgardbookings@gmail.com
Steward: Mistress Collette de Harcourt
Contact: bec_tonkin@bigpond.com
About:
Come to the Feasting Hall of Innilgard during Lent – but do not fear that the food will be boring or lack in flavour! We will explore the options for foods during Lent from vegetarian and vegan options, to foods celebrating the luxury available to nobles, poachers and spice merchants.
The Lenten menu includes dishes from the Lent recipe books of Popes and Kings. The Indulgence Menu, for only 5 gold more, allows the inclusion of meats and other luxury items.
Newcomer Special Price!