18 AUG – A Feast of Indulgences (Lenten Feast)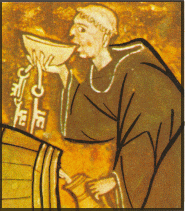 Where: Klemzig Community Hall, 242 North-East Rd, Klemzig, South Australia
Time: Hall opens 5pm, Feast start 6pm
Cost:
Adult Lenten price $30 | Adult Indulgence price $35
Newcomer (1st Feast) $25/$30
Child 5-16 $20/$25
U5 free
All non-SCA-members pay additional $5 insurance fee.
Bookings Close: 8th of August
Bookings: https://goo.gl/forms/esFC3sJ7ttcpGN5N2
Steward: Mistress Collette de Harcourt
Contact: bec_tonkin@bigpond.com
About:
Come to the Feasting Hall of Innilgard during Lent – but do not fear that the food will be boring or lack in flavour! We will explore the options for foods during Lent from vegetarian and vegan options, to foods celebrating the luxury available to nobles, poachers and spice merchants.
The Lenten menu includes dishes from the Lent recipe books of Popes and Kings. The Indulgence Menu, for only 5 gold more, allows the inclusion of meats and other luxury items.
Two exciting competitions will be run at the Lenten Feast in August:
* An item associated with pilgrimage and
* Gobbled Frette cooking competition – A vegetarian or vegan dish.
(Normally a Gobbled Frette cooking competition runs as a stand alone competition, but this one will be run as an A&S competition AND a Gobbled frette competition. This means that the winner will receive the much-coveted giant wooden gobbled frette token to wear until the next Gobbled Frette competition, as well as an A&S bell and scores, will count towards the Innilgard A&S championship.)
Documentation is important, and normal food hygiene and safety practices must be observed.
Members of the Cooks' Guild may like to use this competition as an opportunity to get feedback on their work, bring your submission form along. http://cooks.lochac.sca.org/files/2015/05/LCG-Recipe-Submission-Sheet-Updated-may2015.pdf
You can also join the guild on the night or by giving me a completed membership form at training.
http://cooks.lochac.sca.org/files/2015/05/LCG-General-Membership-Adult-UpdatedMay2015.pdf
http://cooks.lochac.sca.org/files/2015/05/LCG_Gen-Membership-Junior_Update_May15.pdf
Newcomer Special Price!