1 JULY – Viking Raid C&T Tournament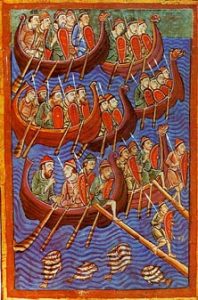 Where: Mellor Reserve, Brand St, Beulah Park
Time: Setup 9.30 am, lists open 10am for 10.30am start
Cost: $0 member, $5 non member fee.
Steward: Faelan mac Flainn
Contact: erevedhel@hotmail.com
About:
The Longboats have been sighted! The Cut and Thrust fighters of the Barony are called to defend the village from the Norsemen – or take their place with the Viking crew for a share of the plunder.
Rules
The tournament is fought under Cut and Thrust rules. Weapons are restricted to swords of 32" or less and centre-boss shields. Loaner swords and shields of the appropriate type will be available on the day. Other off-hands appropriate to the Viking age may be approved at the steward's discretion.
There will be five fields in a line, with the furthermost fields representing a Norse longboat and an Irish village. The fighters will be divided into two teams, one Norse and one Irish, who initially meet in the middle field. Each time a fighter is defeated, their opponent advances one field. If the Norse win in the village, or the Irish win on the longboat, they are victorious overall.
When a fighter is defeated, another member of their team should take their place defending the next field. Only when all members of the team are defeated should that fighter return. Teams are allowed to switch undefeated fighters between bouts should they so desire. In the event of double kills, two new fighters must meet in the same field. A legged or disarmed fighter landing a simultaneous head or body shot, however, allows the legged fighter to advance but they must be replaced with a team-mate on the next field.
Should there be time, the Norse will then leave, victorious or otherwise, and find another Irish village.
Arts and Sciences Competitions
Item for a Viking Raider

An Irish Treasure

Newcomer's competition: 14th-15th century, restricted to those who have entered 4 or less competitions previously
For more information contact the steward, or Baroness Fionnabhair at artsandsciences@innilgard.lochac.sca.org.